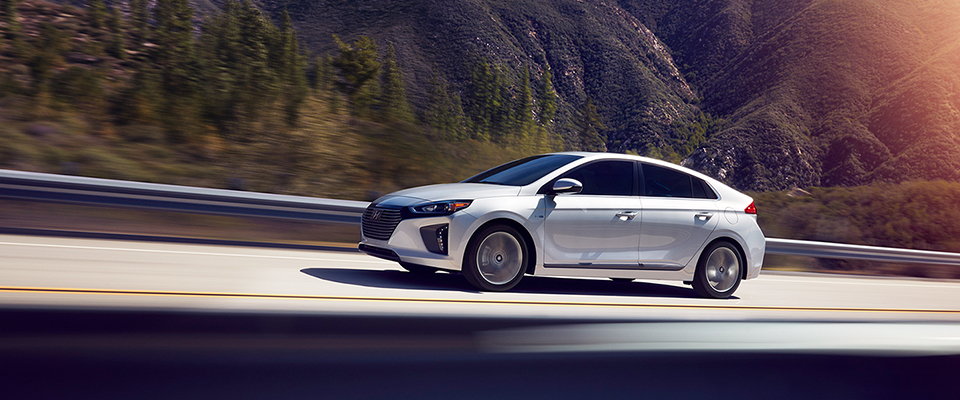 Hyundai: Meet Your Next Fuel-Efficient Car
The most efficient Hyundai vehicles include the 2018 Hyundai Ioniq Electric, 2018 Hyundai Ioniq Plug-in Hybrid, 2018 Hyundai Elantra, 2018 Hyundai Sonata Hybrid and many others. Buy or lease a fuel-efficient Hyundai car or SUV to save at the fuel pump for miles and years to come. When you browse our inventory of efficient new Hyundai vehicles for sale, you'll find a variety of Hyundai cars and SUVs, as well as different Hyundai hybrid vehicles. Whether you want to save fuel while cruising around Minneapolis, want something with impressive highway mpg or want to explore a Hyundai with all-electric range capability, you'll find what you're looking for at our Hyundai dealership near Maple Grove, MN.

Which Hyundai Models are the Most Fuel Efficient?
Hyundai vehicles excel when it comes to fuel economy, so you aren't limited to what kind of car or SUV you'd like to finance. You can opt for the fuel-efficient 2018 Hyundai Ioniq Hybrid, which returns up to 58 combined mpg. Or, you can test-drive the 2018 Hyundai Elantra, which returns up to 40 highway mpg with its fuel-efficient gas engine. Whether you need an eco-friendly commuter car or a spacious SUV for the whole family, you'll find an efficient Hyundai that meets your needs.

Some of the most fuel-efficient Hyundai models include:
| Hyundai Vehicles | Fuel Efficiency |
| --- | --- |
| 2018 Hyundai Ioniq Electric | 124-mile all-electric range |
| 2018 Hyundai Ioniq Plug-in Hybrid | Up to 119 MPGe |
| 2018 Hyundai Ioniq Hybrid | Up to 58 combined mpg |
| 2018 Hyundai Sonata Hybrid | Up to 46 highway mpg |
| 2018 Hyundai Elantra | Up to 40 highway mpg |
| 2018 Hyundai Accent | Up to 38 highway mpg |
| 2018 Hyundai Sonata | Up to 37 highway mpg |
| 2017 Hyundai Veloster | Up to 35 highway mpg |
| 2018 Hyundai Tucson | Up to 30 highway mpg |
| 2017 Hyundai Sonata Plug-in Hybrid | 27-mile all-electric range |